Our Big Shakers are available to rent for emergency preparedness fairs, corporate safety, and other events.
To support your company's business continuity plan, we can also bring earthquake safety products including survival kits, safety fasteners, and emergency lighting for purchase at the event.
When you rent our Big Shaker for your event:
Employees learn firsthand the importance of securing household and/or office items to protect them from damage, and from bodily harm during an earthquake.
Learn what to do during an earthquake to protect yourself from injury.
Typically we bring the simulator to an event for a four-hour period.
Additional costs may be incurred for events outside of the greater Los Angeles, San Diego, or San Francisco areas (to cover accommodations, fuel, and meals). We have simulators in southern California and in northern California which travel occasionally to Oregon, Washington, Utah, and Nevada.
Information about the Shaker and a description of its purpose is available here for download to distribute to your employees or community prior to your event.
Request a printed or digital promotional piece for your event.
Each person who experiences The BIG SHAKER will be given a complimentary copy of Putting Down Roots in Earthquake Country, a FREE sample of Quake Hold! Museum Putty and an 'I Survived The Big Shaker' postcard.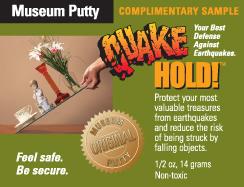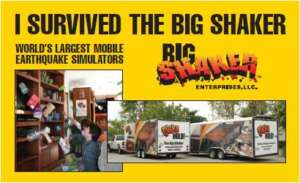 To schedule a Big Shaker for your event or for more information, please complete the form below.
*All fields are required*
* Discounts are often available for corporations, agencies and others that approve our FREE risk assessments for securing equipment in labs, data centers, server rooms, etc on their premises.
Please ask us for more information about risk assessments.