Welcome to Big Shaker
At Big Shaker Enterprises LLC we design, manufacture and operate the largest mobile earthquake simulators in the world.
Our simulators have been developed for earthquake preparedness education, training, and consumer outreach. They are unique and provide the most realistic replications of earthquakes imaginable.
We are affiliated with companies including Ready America, QuakeHOLD!, and QuakeHOLD! Industrial, all of which are leaders in earthquake preparedness and seismic fastening, and the experience we have gained from more than 20 years in business has gone into Big Shaker Enterprises.
The company has its headquarters, manufacturing, and distribution warehouse in Escondido, California.
Our mission is to help the community, in general, understand the importance of being prepared because preparedness is the best defense against earthquakes.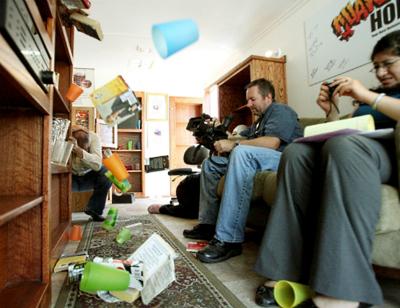 Testimonials
"The closest you can get in experiencing an earthquake. Now it's time to get prepared!"
"This is a HUGE eye-opener on the importance of preparedness."
"Although it may seem fun at first, it's a poignant reminder of how powerful these earthquakes are!"